2023 GMLB Registration is Open!
Greenfield Minor League Baseball is pleased to announce that registration is open for 2023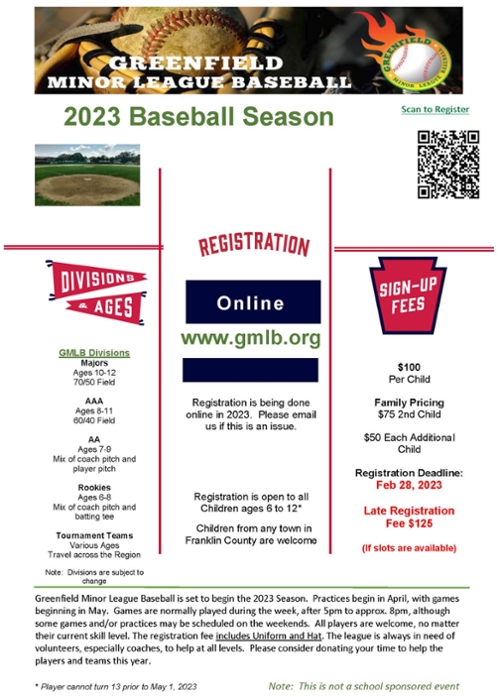 Practices begin in April, with games beginning in May. Games are normally played during the week, after 5:00 PM to approximately 8:00 PM, although some games and/or practices may be scheduled on the weekends.
Registration is open to all Children ages 6 to 12 (player cannot turn 13 prior to May 1, 2023) and children from any town in Franklin County are welcome. All players are welcome, no matter their current skill level. The registration fee includes Uniform and Hat.
GMLB Divisions
Majors: Ages 10-12, 70/50 Field
AAA: Ages 8-11, 60/40 Field
AA: Ages 7-9, mix of coach pitch and player pitch
Rookies: Ages 6-8, mix of coach pitch and batting tee
Tournament Teams
Various Ages Travel across the Region
Note: Divisions are subject to change
The league is always in need of volunteers, especially coaches, to help at all levels. Please consider donating your time to help the players and teams this year.
Sign-up Fees
$100 Per Child
Family Pricing: $75 2nd child, $50 each additional child
Registration Deadline: Feb 28, 2023
Late Registration Fee $125
(If slots are available)
A printable pdf file of this registration is linked below.
Attached File:
Posted: to General News on Tue, Jan 24, 2023
Updated: Tue, Jan 24, 2023